Time to Y-A-H-O-O !!
As per my 'almost' daily schedule, I sat in front of my computer to check emails. I successfully signed in my Yahoo! account and as usual the 'Unread' count in my Inbox had raised by some 3-4, I don't remember how many were there yesterday, making a total of 190 (read "just 190″, bcoz this count was achieved after rigorous inbox cleaning schedule last week)…. Anyway, "most of the time" I try to avoid replying to not so important and not so urgent emails. But today there was no escaping from it. So I quickly clicked on the 'Reply' button and the 'Compose' window appeared. Slowly and gradually I changed the subject line to some meaningful short sentence instead of the usual 'Re:' prefixed sentence.
As I started to type in the message box, my 'sharp eyesight' found something new on the toolbar. Like a lightning bolt my hand moved from the keyboard to catch hold of the mouse and on the next moment the mouse pointer was on that new and strange icon. The tooltip described it as 'Stationery'. Without losing much time I pressed 'PrtScrn' and here is the result.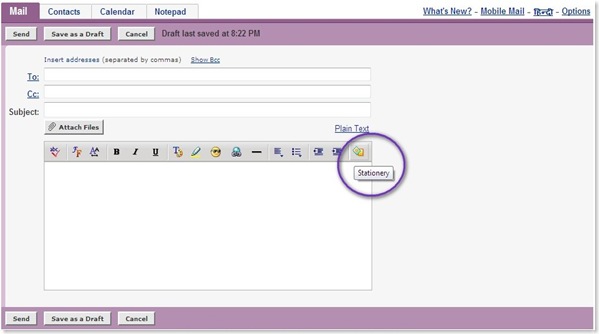 Curiosity to new things is in human nature. So out of curiosity I clicked on the icon and a new window popped up out of nowhere. It was a small window compared to the size of a normal browser window and had a very clean look with some links on the left hand side and some small images to its right. I clicked on the links and the images kept on changing. I hovered my mouse pointer over the image and did as per the explanation in the tooltip, 'Single click to preview. Double click to select.' I kept on single clicking and the background in my message window kept on changing. So this is something nice. I like to send bright and colourful emails instead of that monotonous white emails.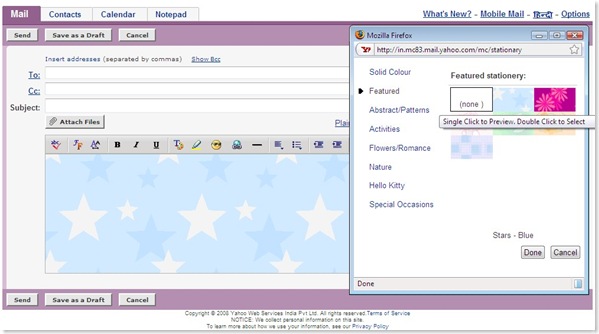 Finally out of these great collection I selected a nice blue design and happily wrote the reply.
So now itself, open up your Yahoo! account and check this new feature of theirs. Also send some emails bcoz u have a reason to do so !!! And finally say with a bang Y-A-H-O-O !!