Doodle 4 Google – My India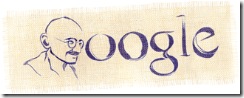 If you are a netizen then definitely you have used Google…

And if you have used Google  then its for sure that you have seen the different logos, say Google Doodles. Every time the logo is simple but beautiful and stunning. I am a big fan of the Google Doodles, what about you ?
14th November is celebrated as the Children's Day in India. It is the birth anniversary of independent India's first Prime Minister – Pandit Jawaharlal Nehru. Now how can Google forget this ? Definitely it hasn't.. So on this day the logo will again change. But this time there's something different they are planning. This time they have asked the students of 1st – 10th standards to make a Google Doodle for the 14th November. Out of the 4000 entries, the top 46 have been selected. The final verdict will be of the netizens i.e. the netizens will have to vote for their favorite doodle and the doodle with the highest votes will be the Google Doodle on the 14th of November 2009.
The last date for voting is the 31st of October 2009. So what are you waiting for ? Vote Now
If you are also a Google Doodle fan like me then check this out: All Google Doodles, Doodle 4 Google – What I wish for the World
PS: No matter which logo, sorry Doodle you vote for, just spare a little time and enjoy all those beautiful doodles. Don't you think, what this little tiny tots have drawn is just awesome ??
Fact: Dennis Hwang is the person who draws all the Google Doodles !