Hit on target with Hittery !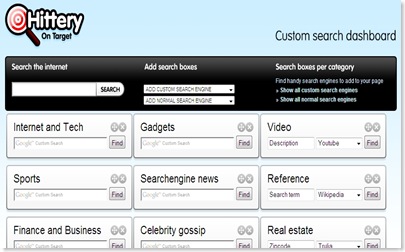 Ever felt the need of having multiple search engines at a single place?? If your answer is affirmative then www.hittery.com is for you… This site contains all the major search engines at the same place.. You won't have to wander here and there for your next search. That's not the end.. Keep reading…
The web site even contains search boxes for specific topic related searches. i.e. if you want to search for a specific video, just enter the terms in the search box titled video and select the search source i.e. Youtube or Google video or any other from their list and just hit the 'Find' button…. There you have a long and tailored list of the video titles from your own selected source…
Looking at the pros and cons:
Positives first

Vast collection of search engines.
You can have your own tailored searches.
The search box widgets can be easily added to iGoogle or your Google toolbar or Netvibes.
The dashboard is totally customizable and you can arrange the search boxes wherever you like and even remove the unneeded ones.
The sidebar on the search results page shows a good number of other options too, like selecting the time period for your search results, related articles and news, etc..
You can also send links for inclusion in the search engine.
Now the negatives:
If you are an eye candy web site lover then this site is not for you. (But then for all who can understand Hindi, it is "Dikhave pe mat jao, apni akal lagao..!!" (Don't just go on the looks, use your brains…))
The home page is quite cluttered, it should have been kept somewhat clean.
If you don't use the 'Home' button provided on the search results page and go for the browser 'Back' button then be ready to click it twice before reaching the previous page.
All in all the web site has more plus points and is really a good deal if you want search results from your handpicked sites. Moreover it is quite user friendly and too easy to use.