Add Yahoo Pingbox to your blog..
Hello to all the Yahoo! Messenger addicts,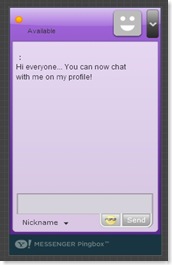 Finally its a great news for all the Y! freaks… Moving out of the 'Betas' Y! launched the final stable version of Yahoo Messenger, version 9. The look and feel has been totally changed and it looks too good now. Also many other features have been added to it, main being the addition of Y! Pingbox. Now all those Y! survivors who felt 'something missing' in their web site or blog will now be able to make it a complete package. I think you got it right. You will not miss your chatting even on your web site. Visitors will be able to chat with you using the Pingbox.
Adding the Pingbox to your web site or blog is a pretty simple process. But to make it even more simpler, I am adding a step by step guide on 'How to add the Pingbox to your Blog or Web site ?'
So here are the 10 easy steps:
Once you are there and if you are not signed in, just go to the 'Sign In' at the top right corner of the page and sign in with your Yahoo username and password. (Note: Hope no one is a new Yahoo user here… If so, instead of the 'Sign In' link go to the 'Sign Up' link and create your Yahoo account in minutes and continue with the steps)

Once you are signed in you will be redirected again to the same page where we started with.

Locate the bright yellow button with

'Create Pingbox'

written on it. I don't think you would have much problem locating that.

Now what are you waiting for ? Click it…

Now the customization of your Pingbox will start. On the left are a variety of things for you to choose for your Pingbox and on the right you will be able to see the way it looks.

When you are content with the design of your chatbox, just get hold of your mouse and click on the purple 'Next' button on the left hand side of the page.

Select the size for the Pingbox, some may love it B-I-G while others may like it small. So as per your taste choose the size and if you want it to add it to any services given above the size selection just click on the respective button.

If you want it to add to some other place not listed there, don't worry. There's a way out. Choose 'Code Only' and press the 'Copy to Clipboard' button. You will get a nice message saying 'Code copied to clipboard.'

Now there's nothing more.. Just go to the page of your web site or blog where you want to add the Pingbox and paste the copied code. As you can see it, I have added my Pingbox to the sidebar of my blog. To do so, open the admin panel of your WordPress blog and go to the Design tab. In that select theme editor and finally select 'Sidebar.php.' Add the code after the <!–sidebar.php start–><div id="sidebar"> tags wherever you wish to show your Pingbox. To display the Pingbox in the center horizontally, do like this:

<!– sidebar.php start –>
<div id="sidebar">

…………….<center>
Paste your code here
</center>…………..

</div>
<!– sidebar.php end –>

Voila, that's it. You are done. Now you can even chat with your web site visitors.