Amp WinOFF – Shut down Windows computer automatically
Most of the computer users have had a time when they wanted to shut down their computer automatically without the manual intervention of pressing ALT + F4 and 'Turn Off'.. or the classic way of clicking on 'Start', selecting 'Turn Off Computer' and finally clicking on the 'Turn Off' button… Now just forget that… Here's AMP WinOFF for you.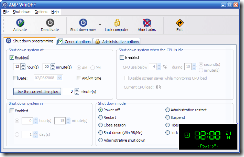 This is the best windows shutdown utility I have ever come across. The latest updated version  is simply awesome.
Here are some of the key points on 'Why to use this and only this ?'

1. You can shutdown/restart/hibernate/lock your computer at any designated time.
2. It gives you an option to shutdown as per your CPU stats, i.e. if you want to shutdown when your CPU usage goes below say 5%, then you can do it. (It has a option to disable the screensaver while calculating the CPU load.)
3. If you want that the system should shut down everyday at a particular time, you have got an option.. Just go to the General Options and enable the 'Auto – reactive the last programmed shut down'.
4. Wanted to know which program was running when you shut down or what was its status ? Fine. You have got what you wanted. It allows to capture screenshot whenever the system is shutting down and that too in JPG or BMP format.
5. AMP WinOFF allows you to execute a program just before shutting down.
6. Did you want that it should ask you for confirmation before shutting down. OK. Select 'Ask for confirmation' in the 'General Options' tab.
7. You can set an administrative password so that unauthorized persons using your computer cannot change your shutdown time.
8. Moreover, as a security feature it has a provision to either 'Restart the program if it's aborted' or 'Shut down the system as soon as the program is aborted.'
9. You can also shut down remote computers using this.
10. Finally, if required you can hide the taskbar icon for this program.
PS: The help is also awesome. Everything has been explained in a very descriptive way.
One more thing it is totally F-R-E-E…
PS 2: Do you know a better utility than AMP Winoff ? Just share it by leaving a comment.