Manage Multiple Network Settings with NetSetMan !
Ever pulled your hair managing multiple IP addresses ? Ever wished that managing multiple IPs was easier ? If not then you are a lucky guy, please don't read further… Maybe when after reading this you may change your mind and try NetSetMan.

But for those who have really pulled their hair, NetSetMan is the perfect solution.
As per the Website, it is a network settings manager. Its much easier to use than the default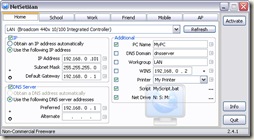 TCP/IP properties. The utility is available in 2 versions, one is a non-commercial freeware while the other is a Commercial Pro Version. The basic difference between the two versions is that in the free version you can manage only 6 different network profiles. I know, I know, 6 is not a small figure when you are talking about network profiles. If you are a normal user then the free version is more than enough !!
Are you tired of changing your network configuration on your
laptop or computer every day? Always the same procedure?

On the go: changing…
At home: changing…
In the office: changing…

Then NetSetMan is your solution. It will do the work for you.
Moreover, the website mentions that doing a restart after the settings have been applied is recommended, but truly speaking I have been using this utility since almost a month and have never felt a need to do so.. So its up to you to decide.
Anyway, here are some of the main features:
Manage IP addresses, subnet mask, default gateways, DNS Server and even Computer Name, Workgroup, Printers, etc. for 6 different profiles.

 

Activate the profile in 2 clicks !! (1 for selecting the profile and 1 for activating, that's it.)
Rename the tabs for the profiles so that it is easier for you to manage.
The utility minimizes to the tray and hence is accessible in just a single click.

 

Check your current settings by just hovering your mouse over the NetSetMan icon in the system tray.

 

The settings are stored in settings.ini file and so no problems when you upgrade or transfer to another version.

 

Execute your desired and customized scripts.

 

Map Network drives.

 

Can be activated using command line parameters.

 

Manage Proxy settings for Internet Explorer and Firefox. (PRO version only)

 

Manage homepage of your browsers. (PRO version only)
I give a 5 star rating to the utility… What about you ?
So start using NetSetMan and forget the TCP/IP Properties dialog box of Windows !
PS: If you know any other utility better than this, do let others know by leaving a comment.. And you never know, if its real good it may be featured on this blog along with your name. Moreover, do comment if you felt that the utility was useful to you.