Phelps Fact File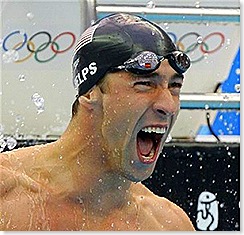 He is the latest sensation in the sports world, Michael Phelps nicknamed "Flying Fish" or "The Baltimore Bullet". He created history by winning eight gold medals at the Beijing 2008 Olympics taking his total tally to 14 gold medals, the highest anyone has won in the Olympics.
8 The number of gold medals Michael Phelps will leave the Beijing with.He has now won 14 Olympic gold medals.
12000 The number of calories the US swimming sensation consumes in a single day.
6 The number of hours Phelps trains daily to get himself in shape for the events.
15 His age, when he became the youngest male Olympian in 2000 Olympics since 1932.
50 The distance in miles that he swims every week in training.
3 The length in inches that Phelps' arm span is longer than his body, which gives the 6ft 4 inch swimmer additional pull when he ploughs through water.
17 Total titles he has won at the World Championships between 2001 and 2007
14 His massive foot size, which provide the effect of flippers.
36 The number of years US legend Mark Spitz's record stood before it was shattered by his own countryman.