Shastri's Tuesday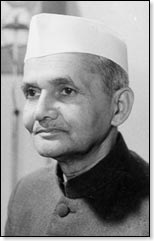 In Lal Bahadur Shastri's life, Tuesday proved to be an eventful day. Most of the important things of his life happened on this day.
He was Born on a Tuesday.
Once while bathing in the Ganges, he slipped from his mother's lap and unfortunately his absence was not noticed. Luckily he fell in a farmer's basket and was rescued. The day was Tuesday.
In 1940, he was arrested on a Tuesday.
On Tuesday, he was made the Minister of the UP assembly.
In 1947 again on a Tuesday he was made the communication minister.
On Tuesday in 1951, he was made the President of Congress.
He was made the Railway Minister on Tuesday.
He became India's Prime Minister on Tuesday.
On Tuesday he received "Bharat Ratna" from Dr. Radha Krishnan.
He signed the Tashkent agreement on a Tuesday.
Finally, he breathed his last on a Tuesday.