An Artistic Homage to The King of Pop – Michael Jackson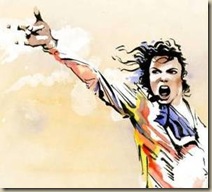 Here is a collection of some of the most beautiful artistic creations of Michael Jackson – The King of Pop. I found the images from various websites and assembled them in the form of a flash presentation.
If you know other artistic creations about Michael Jackson, you can share them by posting the links in the comments' section and I will assemble them along with the others.
If you liked the presentation and would like a copy of the flash file, just leave a comment with your email id and i'll send it to you.
U can find information regarding the various artists here : Web Designer Depot